On the seventh day of Navratri celebrations, Goddess Kalratri is worshipped. Her body is black in colour just like darkness and she has three eyes which are round shaped just like the universe. Though her appearance is fearsome but she is very auspicious. She is also considered to be very powerful. In India Kalratri Temple in Varanasi is dedicated to her. This temple is one of the Shakti peets of Varanasi. Check out the details about the temple and significance of worshipping Goddess Kalratri.
Location
Kalratri Temple is situated at D-8/11, Kalika Gali parallel to Annapurna Vishwanath lane. The temple remains opened from 6 AM in the morning to 12:30 PM and from 4 PM to 10:30 PM. You can participate in the arties held both in the morning and evening.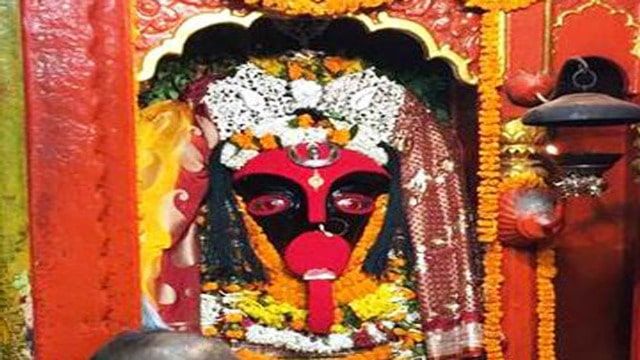 About the idol
Goddess Kalratri rules Planet Rahu. The goddess has four arms and she rides on a gadarbh with donkey being her procession. Kalratri goddess has killed demons Shumbh and Nishumbh. She has 3 eyes and she exhales fire flames through her nose. Her upper right hand grants blessings and lower right hand grants protection. In her upper left hand she holds an iron thorn and her lower left hand has a dagger. Goddess Kalratri also wears a bead that glows like fire of electric power. She destroys evil and her devotees need not fear anything.
About the temple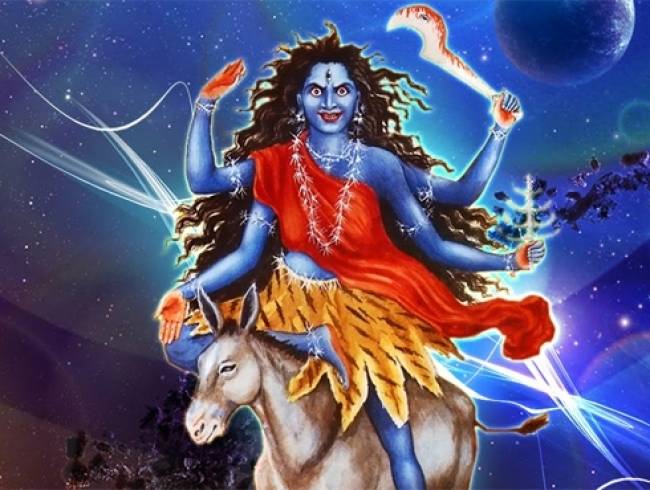 At the Kalratri Temple there is an old tradition of sacrificing coconuts. It is said that these coconuts are considered as living things and sacrificed on the seventh day of Durga Puja in the temple. People after offering coconuts pray to the goddess and also offer red clothes. For the people who worship on this day doors for every power and practice open. Various kinds of tantrik rituals are performed on this day, so alcohol is also offered to the goddess.
Significance of worshipping Goddess Kalratri:
Goddess Kaalratri is worshipped to destroy the agony of awry influence from life of mankind. The pooja is performed to please the goddess.