Social Media has become one of the most popular modes of communication, nowadays. You might have seen many silly or funny challenges like Kiki and Bird Box all over the internet but this time the latest #Trash Tag challenge is all in the buzz and has a positive motive behind it.
This challenge was first seen in 2015 by the media brand Teton Gravity Research.
The company wrote: "Help us all […] by joining the #trashtag project and posting pics of your own cleanup efforts on Instagram. We aim to make a tangible impact on the environment through the galvanizing forces of social media,".
However, at that time, it was not able to grab everyone's attention and failed but now after years an old picture from it vent viral and resulted in a powerful response. Check out the picture below which made this challenge possible: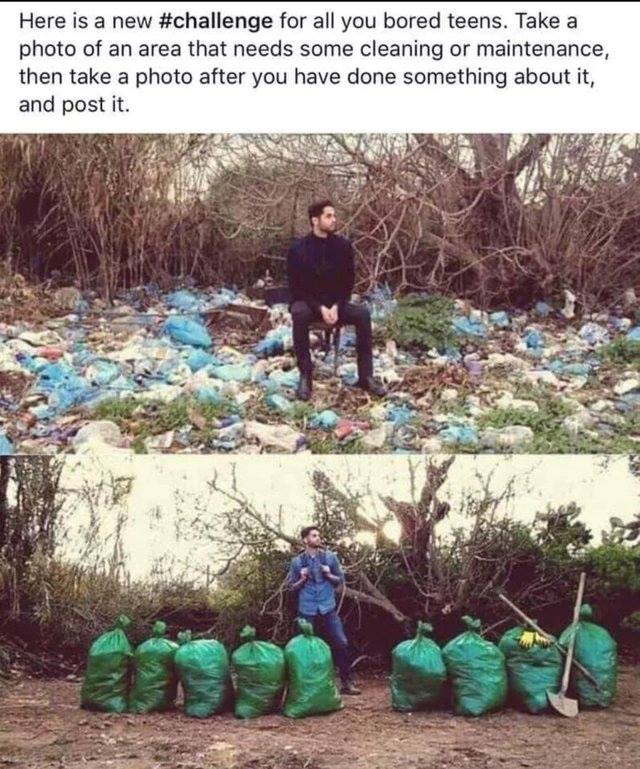 As nothing is impossible on Instagram and Twitter, this challenge immediately got spread all over and people are being spotted doing it. Young people are picking up garbage and uploading the before and after images which are really motivational.
Earlier the challenges that were in trend only entertained us but this one is a live example of initiating social cause through the internet. A little effort from everyone can make a huge difference.
Check out the people's posts here:
#trashtag seems to be trending. This one's from Nepal 🇳🇵 pic.twitter.com/stAxbQXhup

— Kelllvvviiinnn (@kelllvvviiinnn) March 9, 2019
I don't have a before-and-after picture, but here's a couple of pictures of me with my family picking up trash from the road side whenever we made a rest stop. #trashtag pic.twitter.com/TygYf2dM13

— Adhiti (@frizhbee) March 10, 2019
Did our part today for #trashtag while offroading in the mountains of California. via /r/pics https://t.co/1duo3B8pnJ created by: https://t.co/HP3Iew3S7L pic.twitter.com/WRD5sAsiwz

— Steben Stupid (@steben316) March 11, 2019
Along the Potomac River south of Washington, DC #trashtag pic.twitter.com/n2uPL52LZG

— Robbie McNeil (@RMcNeil2105) March 10, 2019
#trashtag has been an awesome time world wide flash moment.

From 44bags in Asheville North Carolina, 500 volunteers picking up 8000 lb in South mountain regional Park Arizona, and Hungry cleaning rivers.

This has been one of the best hashtag challenges ever. pic.twitter.com/QON5Ahdkzo

— OREGON I.T. NOT IT⚾ (@OregonJOBS2) March 11, 2019
people are taking part in this clean up challenge and it's amazing!! #trashtag pic.twitter.com/Iw9M1t2Xk3

— zzzzz (@Naxsx7N) March 10, 2019