In the 1990s, Indian weddings tend to have a lot of ceremonies, rituals that bride, groom and their families performed for days and even weeks. Nowadays those rituals confined only to 2-3 days which has been customised on the basis of lifestyle, social status and tastes along with family traditions and rituals. Of the range of trends dominating the Desi, wedding is the pre-wedding photo shoots which are basically a western and Bollywood-ish concept.
There is something charming about pre-wedding photo shoot like nuanced emotion, beginning of new life and excitement to become a newlywed couple. The shoot is a perfect platform to save these memories for a lifetime. Choosing a right photographer, right time and right venue/location is a big task. You're really lucky if you live in Delhi as it is a blend of heritage, nature and beauty that will beautify your romantic pre-wedding photo shoot.
Humayun Tomb
If you think a tomb is a pretty boring way to start your beautiful new life then you haven't seen the Humayun Tomb. The Mughal- Persian architecture is a dazzling site with a great backdrop for dramatic photography. Garden squares, water fountains, red stones and marble structures is a tailor-made place for a pre-wedding shoot.
Where: Opposite Nizamuddin Dargah
Cost: Free
Time: 6.am. To 6 p.m.
Agrasen ki Baoli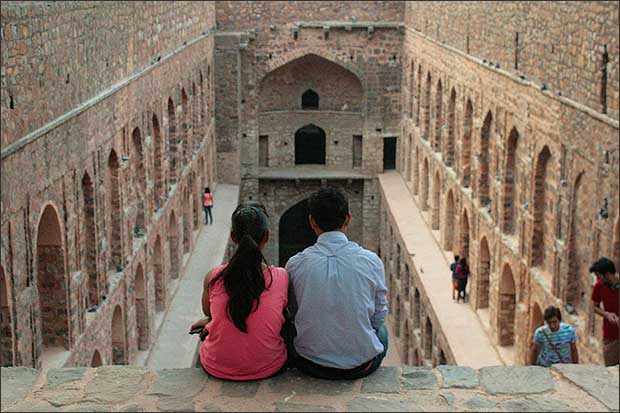 Administered by ASI (Archaeological Survey of India), Agarsen ki Baoli is one of the popular and historical pre-wedding shoot locations for Delhiites. It is 60m long and 15m wide located at Halley valley in Connaught place, New Delhi. This place gained popularity due to Bollywood's intervention and it will definitely go to add old world charm to your shoot.
Where: Halley valley, Connaught place
Cost: Free
Time: 9 a.m. to 5 p.m.
Tikli Bottom
Tikli bottom located about an hour from Gurugram border is also known as English cottage set which is filled with beautiful open lawns and swimming pool. With a Cheeky name, the place is a unique romantic photo shoot destination surrounded by expansive garden space and timeless beautiful backdrop. Go there and you'll cherish photographs and memories forever.
Where: Gairatpur Bas Village, Tikli, Gurgaon
Cost: a Starting price of Rs. 12,000 for day
Time: 24 hours
Hauz Khas Fort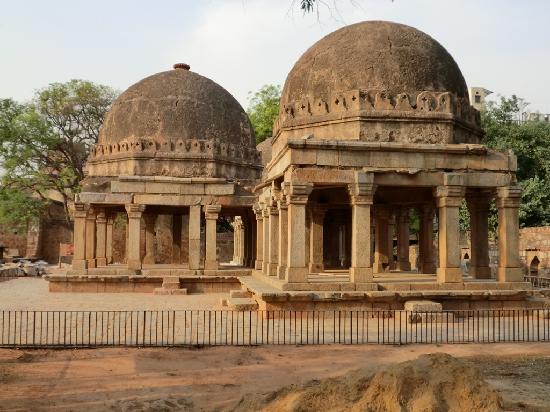 When we say Hauz Khas, best pubs, restaurants, bars and clubs come to the mind but not to forget the historic Hauz Khas Fort. Once a small village into amidst of posh south Delhi neighbourhoods, Hauz Khas fort has become one of the most happening and loved places in recent times for couples. It has open places, a tomb, mini lake, Islamic Seminary and water tank and rustic background. The place is just picture perfect for pre-wedding and portfolio shoots where the contrast of old-world charm can add a different twist to the photos. With good photography and right lighting, this place can be pure magic.
Where: Hauz Khas Village, Deer Park, Hauz Khas, Delhi 110016
Cost: Free
Time: 10.30 A.m. to 7 p.m. Best time- (one hour after sunrise and an hour before sunset)
Garden of Five Senses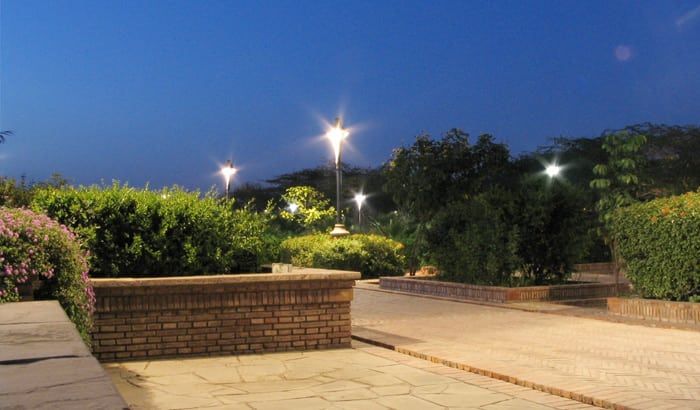 Unlike ancient Delhi, it's a modern Avatar consist of scenic beauty that can add charisma to your pre-wedding portfolio. Spread over 20 acres, this garden has a number of theme areas like Solar energy park, bamboo courts, Mughal gardens, beautiful pools and much more to tempt your lenses to flirt with. Most striking part is the majestic rocks with some strewn on the ground while other stand silhouetted against the sky.
Where: Mehrauli-Badarpur Road, Said Ul Ajaib Village
Cost: Free
Time: 9 am and 7 pm (late morning shoot in winter and late evening shoot during summer)