It is the time to chant "'Ganpati Bappa Morya" and offer sweets to Lord Ganesha. Ganesha festival has started in Maharashtra's Mumbai and other parts of the country. Idols and pandals on which work has been going on for months are finally in place. Mumbai has several famous pandals, and people visit them during this 10-day long festival. So check out the list of best and top 5 pandals in Mumbai:
· Lalbaugh Cha Raja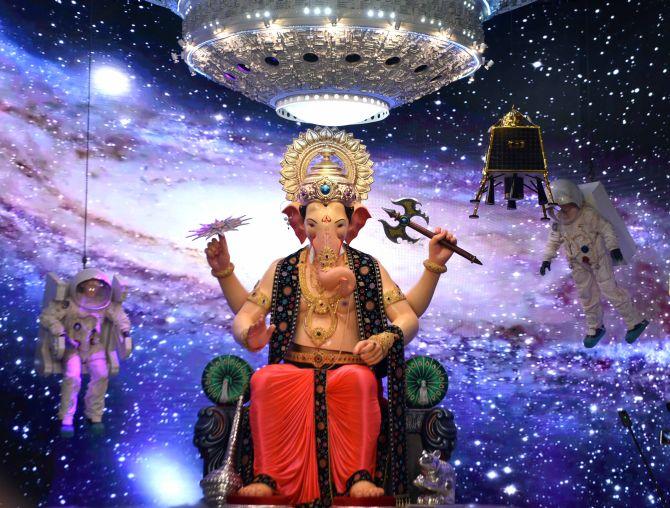 From over 100 years, long queues are seen at Lalbaughcha Raja, Mumbai. It is one of the most famous Ganpati Mandal in Central Mumbai and devotees from all around the country wait to catch a glimpse of Lord Ganesh. A 20-feet high Ganpati idol is crafted at the pandal which is made by Santosh Kamble. This year a contemporary look of ISRO's Chandrayaan-2 mission has been given to the pandal. It draws an average of 1.5 million people a day. It is believed that this Ganesh idol can fulfill all your dreams.
· Ganesh Galli
This one is only a few lanes away from Lalbaugh cha Rajja and is the oldest Ganesh pandal in Mumbai, completing 92 years. This pandal is famous for recreating a famous place in India every year. It was formed for the benefit of the mill workers in 1928.
· Andhericha Raja
Andheri cha Raja is like Lalbaughcha Raja to South Mumbai. The Ganpati idol here is known as "Navasala Pavnara Ganpati" (wish-fulfilling Ganesha) who was also later known as "Andhericha Raja" (King of Andheri) by Mumbai. Every year the theme of the Mandal is generally a replica of a significant temple in India.
· GSB Seva Mandal, Matunga
This Mandal is known as Mumbai's gold Ganesh. Yes, the idol is adorned with pure gold, 60 Kilograms of it! The mandal is stated to be the richest in the city. It was founded by the Gowd Saraswat Brahmin community from Karnataka in 1954. The idol is always an eco-friendly one, made out of clay. The Mandal is also distinguishing as there's none of the usual recorded music there. Whereas, traditional Indian musical instruments are played.
· Khetwadicha Ganraj
It is one of the most stunning Ganesh idols in Mumbai. The madal once made a 40 feet tall Ganesh idol decked up in gold and diamonds. There are about 13 lanes in the Khetwadi area situated in Girgaon and a Ganesh pandal is seen in almost every lane.