The monsoon struck the capital after months of scorching heat. This season brings out the best in everything. You have lush green garden, beautiful skies, etc.
Monsoon or no monsoon, Dilliwalle love to eat out. But monsoon obviously has a special charm. Having some delicious food and enjoy the rain drops falling to the floor is just a wonderful feeling. Getting to have a hot cup of tea and a plate of pakodas, is the most romantic thing to do with your love one.
Here are 10 places in Delhi where you can enjoy a bite with the perfect weather upon you:
10) Have a cutting chai (tea) at Salim tea shop: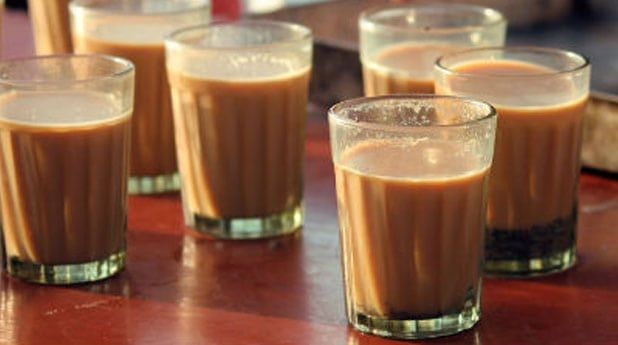 Even though there are like a million chai stalls in Delhi, but it is considered the best tea shop in the entire city. It is located in MatiaMahal, old Delhi. It has a seating of 20 people, which makes it a very cute place, especially during the monsoons. The staff is very warm and friendly. They love their customers and don't let anyone go unsatisfied. Enjoy a hot cup of tea with some biscuits. It is also very reasonable as one cup would cost up to Rs.12.
9) Try the snacks at the Jama Masjid: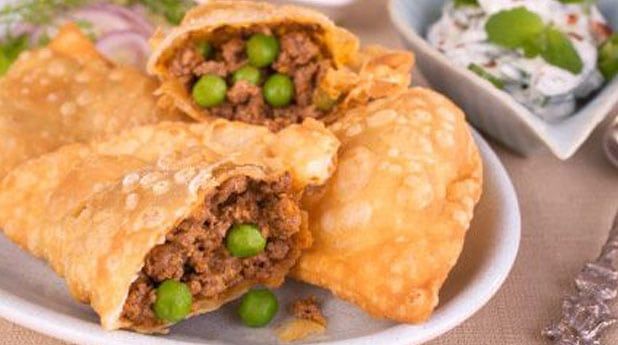 When talking about Delhi food, how can we not include the stalls and carts which serve the most delicious deep fried snacks one has ever tasted? They have the kheema samosas which are a specialty here. You will lick your fingers after having a bite of this. There are many stalls serving the same dish. They are located near Gate no. 1, Jama Masjid. The kheema samosa is available at Rs.15 per piece.
8) Have a full meal at Laxman Dhaba: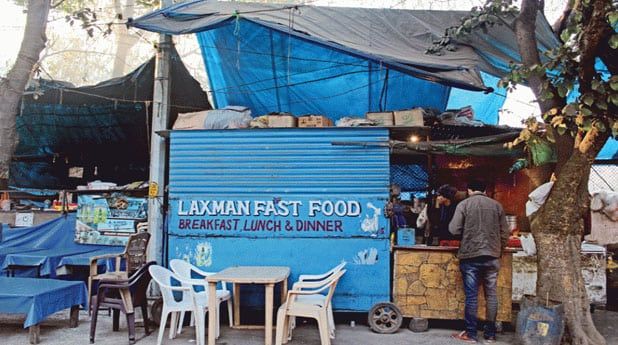 Have mouthwatering parathas, with hot and spicy vegetables at this famous eatery. Popular amongst college students, this roadside joint is the perfect place to enjoy food with rain. It is located near the Qutub Industrial Area.
7) Taste the old traditional food at Fateh Ki Kachori: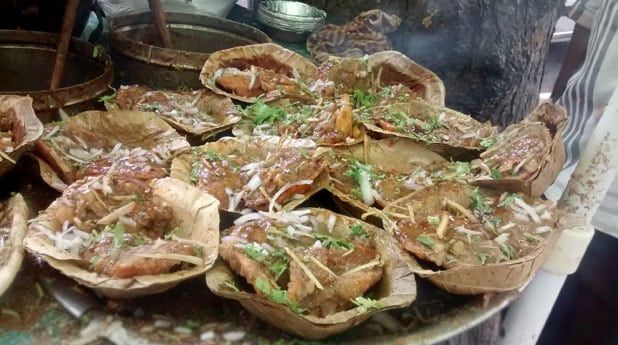 You should definitely go to Civil Lines and try the kachoris at this place. The vendor only offer this particular snack. Very famous amongst the colleges near that area. The food price for two people will fall up to Rs.50.
6) The delicious pakodas at Paramjeet Machi Wala: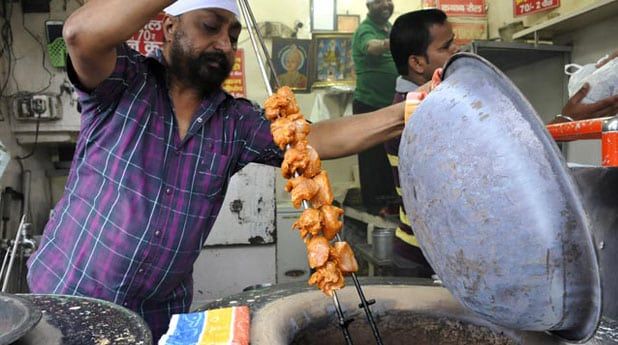 This place serves the best fish pakodas in the entire city. It has the kingfish, catfish and pomfret pakoads that will make you fall in love with this place. Going here when it's raining is even better. This 42 year old stall is located near the Moti Nagar metro station. The price bracket for food here is somewhere between Rs.400 – Rs.800.
5) Bun Tikki Wala: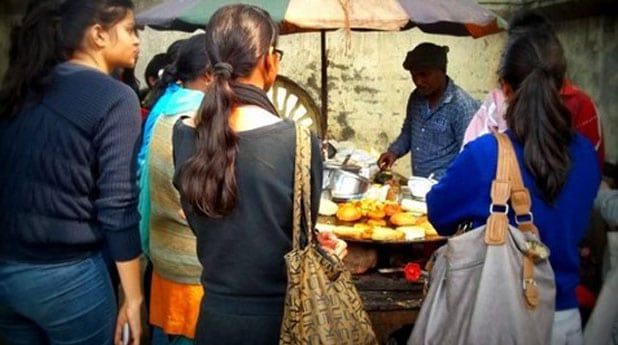 It has some of the best hot snacks and also doesn't burn a hole in your pocket. With this they also have "Banta" (soda) that goes perfect with the meal.this place is also very popular amongst college students. It is located right outside I.P College for Women, Civil Lines. The price of the snacks range from Rs.10 – Rs.50.
4) Ghughni and momos: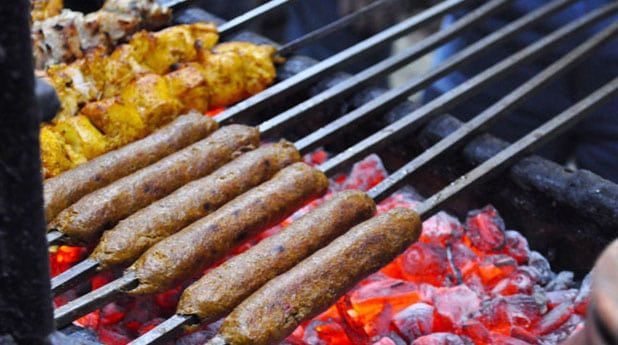 SubrataBarua's stall in CR Park is an amazing place to visit during the monsoon season. This place is always crowed by food lovers from all around the city. You can get both vegetarian as well as non- vegetarian ghughni (chickpea chaat) here. The vegetarian dish is for Rs. 15 and the non- vegetarian is for Rs.25.
3) Tom Uncle Maggie: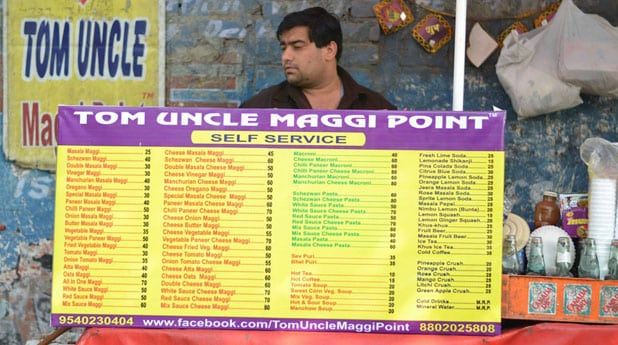 If you want to have the best Maggie then go to this place. It is the most famous joint in Delhi. There are different flavours of Maggie that are available here. It is located near North Campus, DU and costa up to Rs.100 for two people.
2) Go for the roll: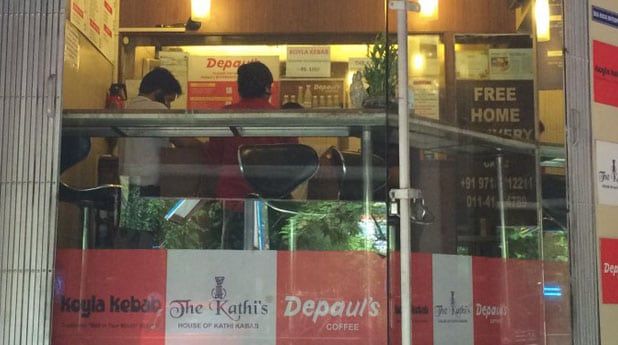 Go try the Kathi's in Greater Kailash 1 M block market. These rolls are wrapped in crisp parathas and served with mint chattiney. They are the perfect food for the monsoons. You have a variety of options. The price is Rs.100 onwards.
1) Dolma Aunty Momos: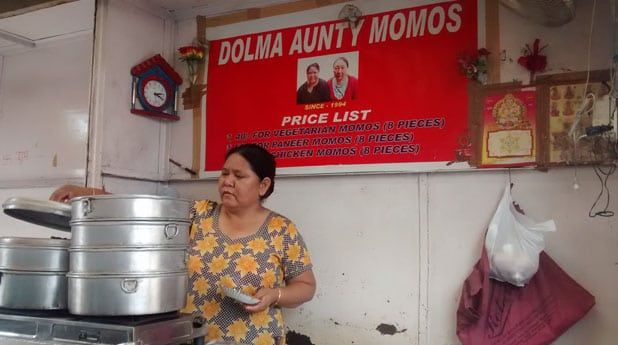 They have the thinnest and the tastiest momos in Lajpat Nagar, Delhi. It is served with a hot red chili sauce. Go there on a rainy day and feast on the hot and delicious moms.
Enjoying the scent of the wet ground and see the beautiful sky change colors is just a picture perfect moment. Go with friends and family and spend some quality time with them. Forget about the negative things and enjoy small things in life.