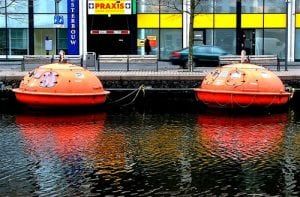 A hotel is not just a place to stay when you travel. There are various categories of hotels from uber luxurious to opulent hotels. We at TP present the most quirky hotels you would love to stay in:
Capsule Hotel – Netherlands
The Capsule hotel in the Netherlands proffers an exceptional stay in old oilrig survivor pods which are refurbished to be used as floating accommodation. These pods are floating in The Hague River. Every pod has a bathroom, small library, refreshments, a bed and a creative interior. This does not look glamorous at the first look but is cool enough to have a comfortable and peaceful stay.
Giraffe Manor
This one-of-a-kind lodge in Kenya permits its guests to reside with a herd of giraffes. The hotel tenders gracefully designed accommodation, where the guests could feed the giraffes from their brunch table, from the front door and also through their bedroom window. The Manor has six bedrooms and all profits from the hotel go to furthering the charitable objectives of AFEW.
Treehotel, Harads, Sweden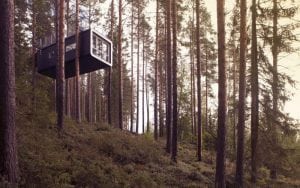 Situated in the pine woods near Harads are few exclusive 'treerooms'. Treehouses looks like a capsule-like Cabin made of glass, the amazing Mirror cube and the UFO shaped body. In addition to this, there is also a tree sauna. These rooms were constructed on and near existing trees; no trees on the site were cut down in the establishment of the tree hotel. Every treeroom has wood floors which are chemical resistant with hydroelectric under floor heating. Bathrooms contain sinks that provide running water, although shower is located in other building. This hotel will deliver you a soothing experience for sure.
Magic Mountain Hotel, Chile
The Magic Mountain Hotel is located in the Hulio Hulio reserve, which also have natural hot springs, unknown lakes and straight access to the Mocho Choshuenco volcano. Rooms are in a mountain, which has an artificial waterfall dropping from the peak of the mountain shaped roof. There is a story which says that a mountain has magical powers and it fulfills wishes. The waterfall makes the lodge indeed a special place. This place will tune your senses with the forest.
Jumbo Stay, Sweden
This former aircraft, which was Boeing 747-212B, has been converted to hotel in order to present overnight accommodation. People have choice between an en-suite room, twin rooms or a budget dormitory. The best room in this jumbo jet hotel is a sumptuousness cockpit suite which displays panoramic view. Here, you may even take a look of some planes landing at Stockholm Arlanda.
Poseidon Undersea Resort, Fiji
This undersea resort is world's first underwater resort. Though it took thirteen years to come into existence, there's still no signal of its opening. So far, near about 1,50,000 people have registered to experience the Poseidon Undersea Resort. It is actually a set of modish submarines designed especially for the people who love tranquility.
The Library Hotel, New York, USA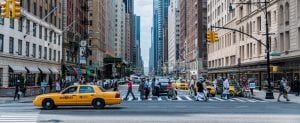 A library in a hotel is not anything fresh. But, the Library Hotel in New York is made for true book worms. All of the ten floors are tribute to one of the ten categories in the Dewey Decimal System and each of the 60 rooms has theme based collection of books depending on the floor. Above all, there's also a writer's den, reading room, poetry garden and terrace. One can find true essence of solitude here.
Kakslauttanen Hotel, Finland
Hotel Kaklauttanen is popularly known as arctic resort. It provides a stay to amazingly stunning glass igloos, from which you can be in awe of the northern lights and glittery sky. This also gives alluring experience of winters by opening house of Santa, offering reindeer safari, ice fishing safari and lot more to the tourists. This resort is open during northern lights season, from the August till the end of April.
Fairy chimney hotel, Turkey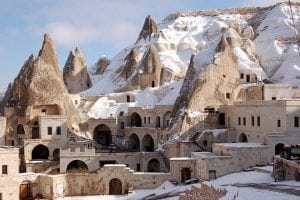 This hotel is situated at the upper south-west end of the township Goreme, Turkey. Substantial parts of it are engraved out of one of the famous tufa rock cones, locals call them 'fairy chimneys' or peri bahcasi. The Fairy Chimney Inn is re-established in a customary way and it is a combination of original local style and modish furniture. Almost all rooms are outfitted with under-floor radiation heating and exclusive "Hamam" like bathrooms. You can also get a WIFI-Network. Besides, you can also use the internet with the public iMac computer present there.
Ice Hotel in Jukkasjarvi, Sweden
The Ice hotel is an inn fabricated every year with snow and ice in the village of Jukkasjärvi, northern Sweden. It is the world's first ice hotel. It was inaugurated in 1990, and then onwards, the hotel has been constructed each year from December to April. The entire hotel, including furniture such as the chairs and beds, are crafted from snow and ice blocks procured from the Torne River. Skilled artists are asked to form differently styled rooms and decorations using ice. There is also a bar with glasses made of ice. The structure remains below freezing temperature of around −5 °C.