Roopkund is the high glacial lake in the Northern Indian state of Uttarakhand. This lake is popular because you can find about 300 human skeleton remains here. The lake is situated in the lap of Trishulchain. People from all around the world come to see this mysterious lake where once the snow melts, there are human skeletons visible. According to experts, these remains are of people who died in a sudden hailstorm back in the 9th century.
The area around the lake is uninhabited as it lies on a height of 5,029 meters. It is surrounded by beautiful snow covered mountains and rock spread glaciers. Here you can see the untouched lush green forests, beautiful streams, snow, and picture perfect campsites. This place is usually visited by people who are looking for some adventure and thrill in their lives.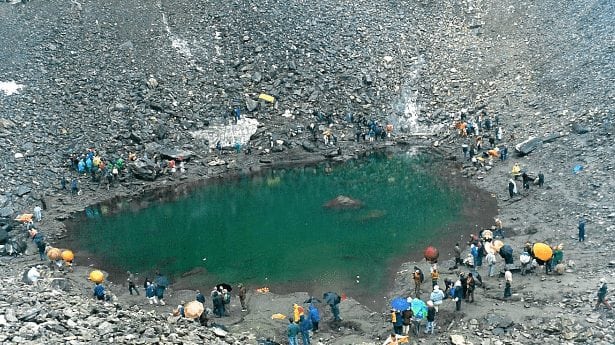 Roopkund is one of the most popular treks in India. It is a climb from 8,000 feet to about 16,000 feet. This climb goes through dark and dense forest into India's most beautiful meadows, Ali and BedniBugyal. After crossing the meadows you will get to witness the most stunning stretch of the alpine trees. The higher you get, the closer you see the enormous Mt. Trishul.
The Roopkund trek gives you the opportunity of seeing some of the most stunning and breathtaking views. It feels like you have been looking at wallpapers on your computer. Come here and get to witness the beauty of the Chaukhamba range, Kedarnath, Neelkanth peak, Kedar Dome and other high points.
The trek here promises to give you an adrenaline rush like never before. There are a few steep climbs that need to be covered with the help of a rope, but otherwise it's a decent climb. You can hire a local guide here who can take you around and tell you all about the mystery behind the human skeletons. This trek is not exactly for beginners as you go through forests, walk on snow and much more. It will be best for you if you have been on at least a few Himalayan treks before. A little experience will prepare you for all the body pain that you might go through.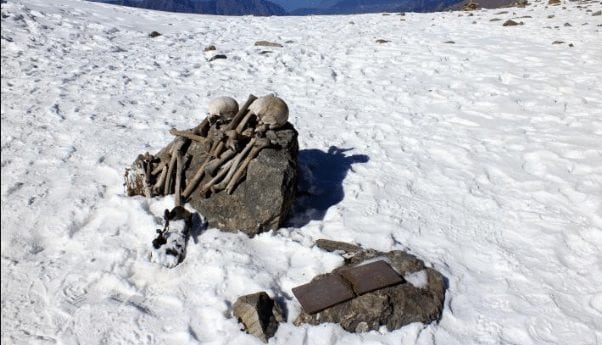 There is a religious festival that takes place at Roopkund every autumn. This takes place at the alpine meadow of BedniBugyal and neighboring villagers come here in large quantities to celebrate the auspicious day. There is another festival called the Nanda Devi Raj Jat is celebrated here. This celebration takes place once in every twelve years. This festival is devoted to Goddess Nanda.
The best time to visit this majestic place is in between the months of May to June. Otherwise most of the year, the lake is covered with a thick layer of ice. Your starting point for the trek will be the Lohajang pass. This point is easily accessible through road. The lake is about 15 kms from the meadows of BedniBugyal.
This place is perfect if you want to go on a little adventure which also full of mysteries and stories. So if you are the types to climb mountains to discover new things, then visit Roopkund this summer.