The festival of Janmashtami marks the birth of Lord Krishna; this festival is celebrated on a grand scale in each and every city of India, also in parts of other countries where there is ISKCON. The celebrations start by decorating homes with lights and flowers, then dressing up Lord Krishna and visiting magnificently decorated temples of the city. Though in every colony you will find kids decorating their Jhoola, there are some temples which do this beautifully. Here is the list of temples you must visit this Janmashtami.
Birla Mandir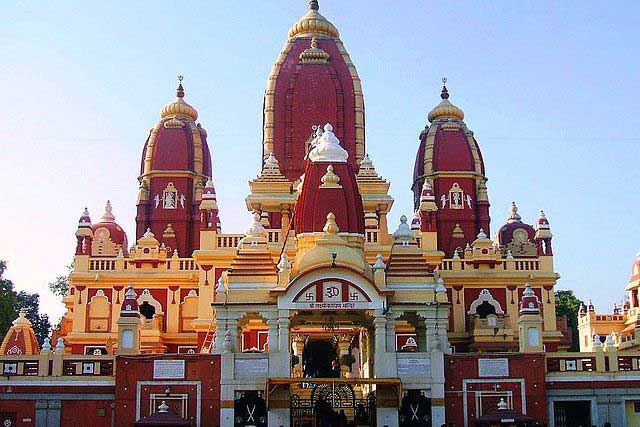 Thousands of devotees visit Lakshmi Narayan Mandir (Birla Mandir) on the occasion of Janmashtami, This temple is dedicated to Goddess Laxmi and Lord Narayan. The temple is wonderfully decorated with lights. It is one of the most popular tourist attractions of Delhi. The nearest metro station to reach there is RK Ashram Marg.
Iskon temple- the best East of Kailash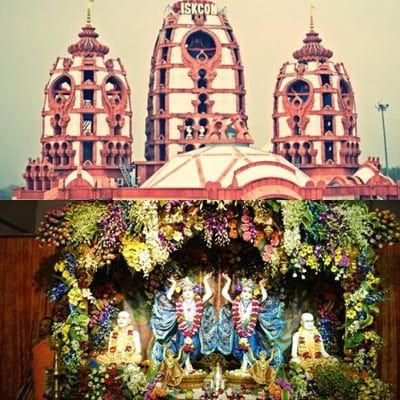 International Society for Krishna Consciousness (ISKCON) has built many Krishna temples all around the world. Also known as Sri Sri Radha Parthasarathi Mandir (East of kailash), they celebrate Janmashtami as their main festival attracting lakhs of devotees.  Their celebrations start a week prior to Lord Krishna's birthday, which include various activities like – performances, Bhagavat Katha, Maha Abhishek, and Yatras.  Iskon temple is a must visit if you want to feel the beauty of the festival.
Chattarpur Temple
Located in Chattarpur, this holy temple is known as Shree Adya Katyayani Shaktipeeth Mandir.  Special celebrations are organized during the festival of Janmashtami. Thousands of devotees visit the temple to take blessings of Lord Krishna. You can reach there by metro, chattarpur is the nearest metro station or by car and buses.
Sri Sri Radha Govind Temple, Noida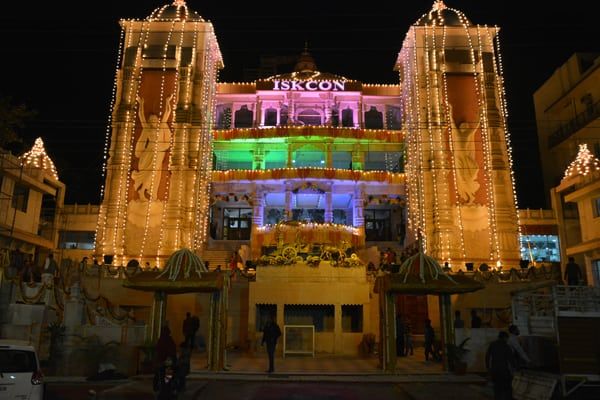 This is yet another temple of ISKCON group, which was opened in 2014 in Noida. They also celebrate Janmashtami with great grandeur following the rituals of ISKCON group which also include Aarti, Prasad distribution, Cultural programs and Kalash Abhishek. Hare Krishna!!
Mathura and Vrindavan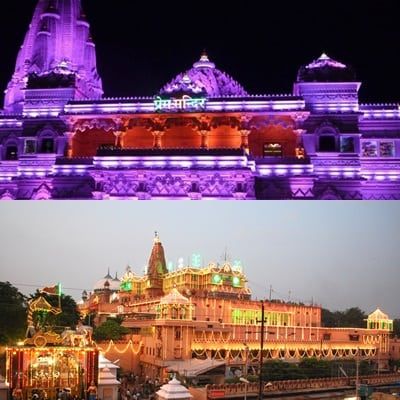 Mathura and Vrindavan are the two places which are associated with Lord Krishna; He was born in one place and grown up in another. For the people of these places nothing is bigger than the day of Janmashtami, there are grand celebrations.  The whole city is lighted up like Diwali. You can easily reach both the places by a long drive. What can be more amazing than celebrating the birthday of Lord Krishna in the city where he came in the world?