Patwon Ki Haveli, Jaisalmer

Posted by: Team TP,

Posted on: 11 months ago

One of the most beautiful and most interesting architectural marvels, Patwon Ki Haveli, lies in the city of Jaisalmer. This Haveli was the first mansion to be erected in Jaisalmer and the monument is a cluster of 5 small havelis. Located near to Patwa Complex, it is also known as "Mansion of Brocade merchants" as it was built by a wealthy brocade and jewelry merchant. Out of the five combinations of this haveli, one serves for private accommodation, two are under the sanction of Archaeological Survey of India, and the other mansions serve as a shop for antique furniture and goods. The Haveli is an example of richness and beautiful architecture with which it is built. One of the most important among the Havelis of Jaisalmer, this mansion was claimed with the fact that its traders made a large amount of money in Opium smuggling and money lending.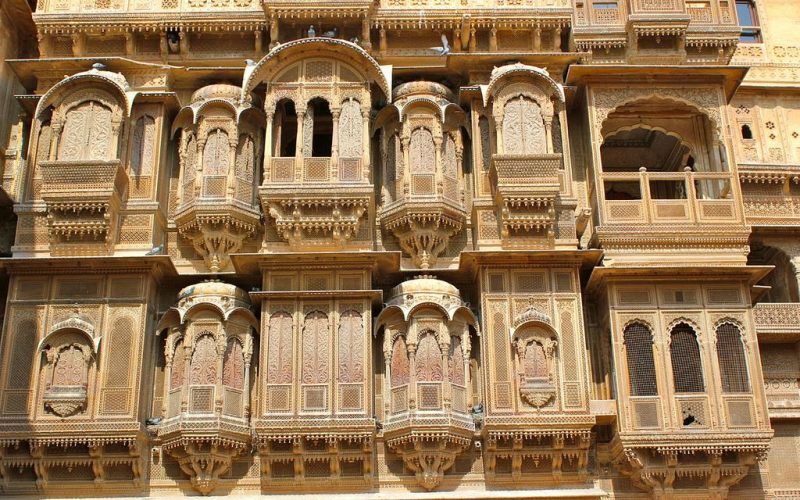 You can visit the haveli between 8 AM to 5 PM every day with an entry fee of 20 rupees for Indians while 100 rupees for foreigners and for the camera, it is Rs50 for still photography and Rs100 for video making. You can get the idea of why this haveli is so famous and beautiful as it took 50 years to design it and was constructed over a span of 60 years in the early 1800s.  The ceilings and pillars are delicately carved and the walls feature mirror work with several beautiful paintings. The haveli has more than 60 balconies facing the street and its architecture depicts typical Jaisalmer tradition. You can find the mansion the home of yellow sandstone as it is constructed with it and the beautifully arched brown gateway makes the mansion an epitome of beauty. The main haveli of this mansion is known as Kothari's Patwa with alluring Jharokhas and lavish carvings.
The Haveli is located in a small street of Jaisalmer near to Patwa complex and one can reach there by any local transport. The nearby tourist attractions to this place are Nathmalji ki Haveli, Jaisalmer sunset point, Badal Mahal, Jaisalmer fort and much more. The haveli is at present occupied by government and is used for various purposes. You can visit the mansion on all the week days.
Comments
comments