Barsana is the Holi hub of country.  Lathmar Holi smells of something violent . . . isn't it? You got it right, there is much more violence than the name signals. On Holi, women leave their houses with thick sticks in their hands whereas men work really hard to find an escape from them. The immensely charged up women folks from Barsana search for men from Nandgaon and beat them like anything.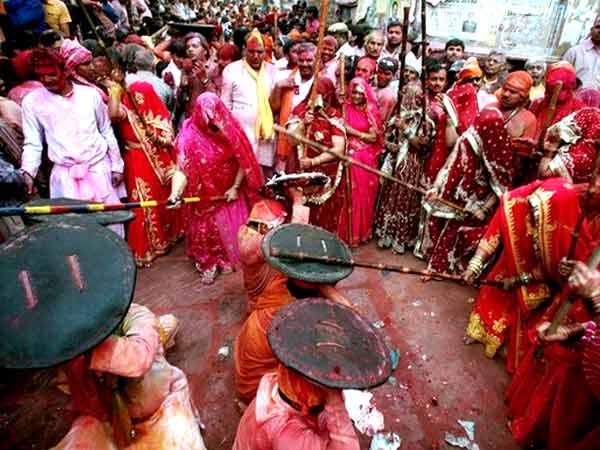 The birth place of Radha, lover of much adored Hindu God Krishna celebrates the festival of colors with full zeal and enthusiasm. As Krishna was famous for playing pranks on gopis . . . he comes directly from Nandgaon to tease them and Radha. Here in Barsana women act like Gopis and beat men assuming them lord Krishna. Men try to color women's face and women try to save themselves by greeting with the sticks.
Men are completely aware of what they are going to face, so they come fully covered along with a dhal . . . the unlucky ones who get caught by women are beaten hard and forced to dance wearing women attire before everyone. People from across the globe come to witness this funny and traditional Holi.