Kumbhalgarh Festival, one of the most important and culturally enriching festival is celebrated on the highest peak of the Aravalli Hills. The festival has been celebrated in full swing for the past 6 centuries. The festival takes place on top of the Kumbhalgarh Fort. The fort is at a height of 1014 meters above sea level. The fort is located on the west of the Aravalli Hills in the district of Rajsamand, in the Indian state of Rajasthan. The closest commercial hub to Kumbhalgarh is Udaipur. Udaipur is about 88 kms away from the fort.
The fort is also a World Heritage Site. It was built by Rana Kumbha during the 15thcentury. It is a magnificent Mewar fortress. The basic purpose to build this medieval fort was to protect the kingdom from invaders.
Every year the festival takes place during the winters. This year the festival will be held from 1st to 3rd December. The significance of this festival is to promote the heritage site. It is also celebrated to uphold art and culture of the state. Kumbhalgarh Festival is celebrated with a lot of excitement and fanfare.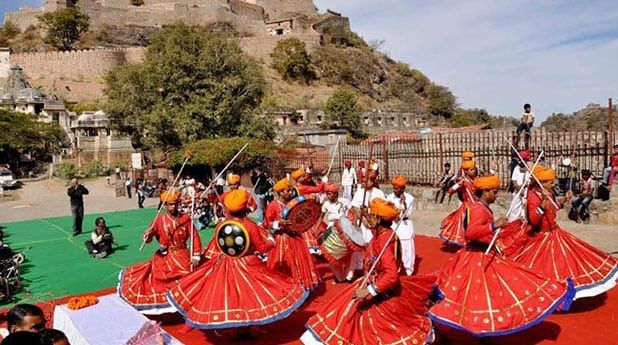 Here you will get to witness the fort like never before. It is well-lit and full of locals and tourists. Some of India's finest performers sing and dance to classical tunes. It makes you feel as if you are in an old Indian fairy tale. The festival showcases young men circling and dancing to enchanting beats of enormous drums. On the other hand young girls form another circle and sing folk songs while each other with colored water. The entire scenario is lively and joyful.
Spectator are also encouraged to join in the celebration by the performers. To add a little more spice to the celebrations, people here host games of musical chairs and tug of war for the kids.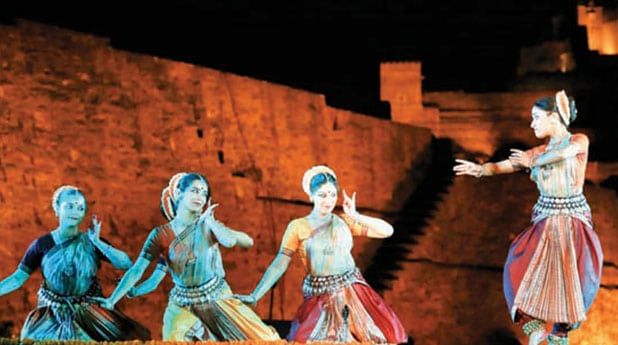 The fort in day light is stunning and at night it becomes even better. There is a golden glow that is added to it, making it a site to see. The view from top of hill is beyond explanation as you can see the perfect view of the beautiful Aravalli Hills from here. The fort is capable of gathering large number of people in it, so that many more can come and witness its gorgeous architecture.
You can reach Kumbhalgarh by train, by air or by road. There are regular bus services that run to and fro from different commercial cities to Kumbhalgarh. From Udaipur, it is a 2 hour drive.
If you want to see the best of Indian culture, classical music and dancing, then you must visit the Kumbhalgarh Festival. It will leave you in awe and you would want to go back.