The kartarpur "Peace Corridor" is now open and the first batch of the Indian pilgrims entered Pakistan through this historic corridor. It was open ahead of the 550th birth anniversary of Sikhism founder Guru Nanak Dev.
Prime Minister Narendra Modi thanked his Pakistan counterpart Imran Khan for understanding India's sentiment on the issue of the Kartarput Sahib Corridor.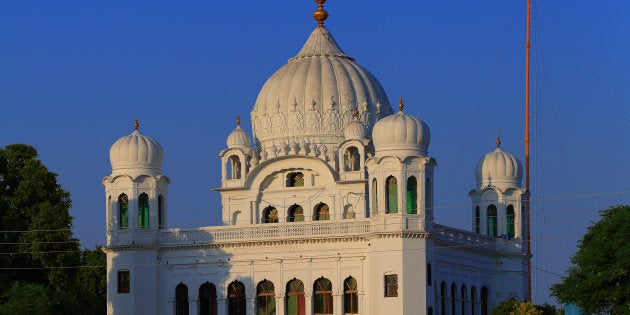 The Kartarpur Corridor links Gurdwara Darbar Sahib in Pakistan, it is the final resting place of Sikhism founder Guru Nanak Dev, to Dera Baba Nanak shrine in this Punjab district.
"It will be easy to pay obeisance at the Darbar Sahib Gurdwara after the opening of the Kartarpur Corridor," PM Modi said at a gathering in Dera Baba Nanak.
The prime minister inaugurated the passenger terminal building of the corridor on the Indian side, also known as the Integrated Check Post (ICP), where pilgrims will get clearance to travel through the newly-built 4.5 km-long corridors.
Describing Kartarpur as a holy place filled with the divine aura of Nanak Dev, Prime Minister Modi said that this corridor would help thousands of devotees and pilgrims.
The first batch of pilgrims included Punjab Chief Minister Amarinder Singh, former chief minister Parkash Singh Badal, Sukhbir Singh Badal, and Navjot Singh Sidhu. He also met Manmohan Singh, who was accompanied by his wife Gursharan Kaur, and had a brief chat with him.
On an inaugural day, over 562 pilgrims crossed over to Pakistan to offers prayers at the Gurdwara Darbar Sahib in Kartarpur.
As per the agreement between India and Pakistan, all the pilgrims have returned to India after visiting the gurdwara located in Pakistan's Narowal district.
The Rashtriya Swayamsevak Sangh (RSS) defined the opening of the Kartarpur Corridor as a significant event that will be imprinted in golden letters in the archives of history.
Importance of this corridor:
A similar bridge like this existed before but it was destroyed in the 1965 war. And now it has been opened again.
Guru's Legacy:
This Gurdwara is known as a place of Guru Nanak's passing, the Guru left this earth at Kartarpur.
The corridor will facilitate visa-free movement but Indian pilgrims are required to carry their passports and will have to just obtain a permit to visit Kartarpur Sahib Gurdwara, which was established by Guru Nanak Dev in 1522.
The corridor has all the necessary passenger amenities to facilitate pilgrims intending to visit the Gurdwara Kartarpur Sahib in Pakistan.
The state-of-the-art Passenger Terminal Building is built on 15 acres of land. The fully air-conditioned building akin to an airport has over 50 immigration counters to facilitate about 5000 pilgrims a day. It provides all the necessary public amenities like kiosks, washrooms, childcare, first aid medical facilities, prayer room and snack counters inside the main building.
This corridor is expected to bring peace between both countries.