Biryani is one of the most satisfying foods for me. A true biryani lover always keeps looking for the tastiest Biryani. Be it, Biryani's flavor or strong aroma, it always takes away the stress. Now in India, we get so many varieties of Biryani from North to South, and one plate is never the same as the other. And today, we will tell you about the most lavish Biryani ever.
Here we present Royal Gold Biryani. This beauty is sold in Bombay Borough, a luxury hotel in Dubai, and costs Dh 1,000 which is approximately Rs 20,000. Bombay Borough, i a British-era bungalow-inspired luxury diner in Dubai International Financial Centre.
Priced at a whopping INR 19700, Royal Gold Biryani is the world's most expensive biryani and of course, it is in Dubai. It has been added to the menu of the lavish restaurant to celebrate its first anniversary.
You must be wondering what makes it super expensive? Well, it is not just a plate of rice and meat, it has multiple things. This 3 kg exotic version of the Indian dish is topped with 23-karats of pure edible gold.
First, the base of the plate is covered with 3 different kinds of rice – biryani rice, keema rice, and white rice with saffron rice on top. The rice itself weighs 3 kgs!
After that There are 3 different kinds of chicken kebab that are placed on the plate – malai chicken, Rajputana murg sula, and chicken meatballs. It also has huge pieces of lamb chops and seekh kebab.
The plate is then garnished with mint leaves, cashew nuts, pomegranates, and fried onions. It takes 45 minutes to plate this entire dish
Now comes the main expensive ingredient, sheets of gold are made to stick on the meat pieces, giving it a very fancy, exquisite, and Dubai-like look.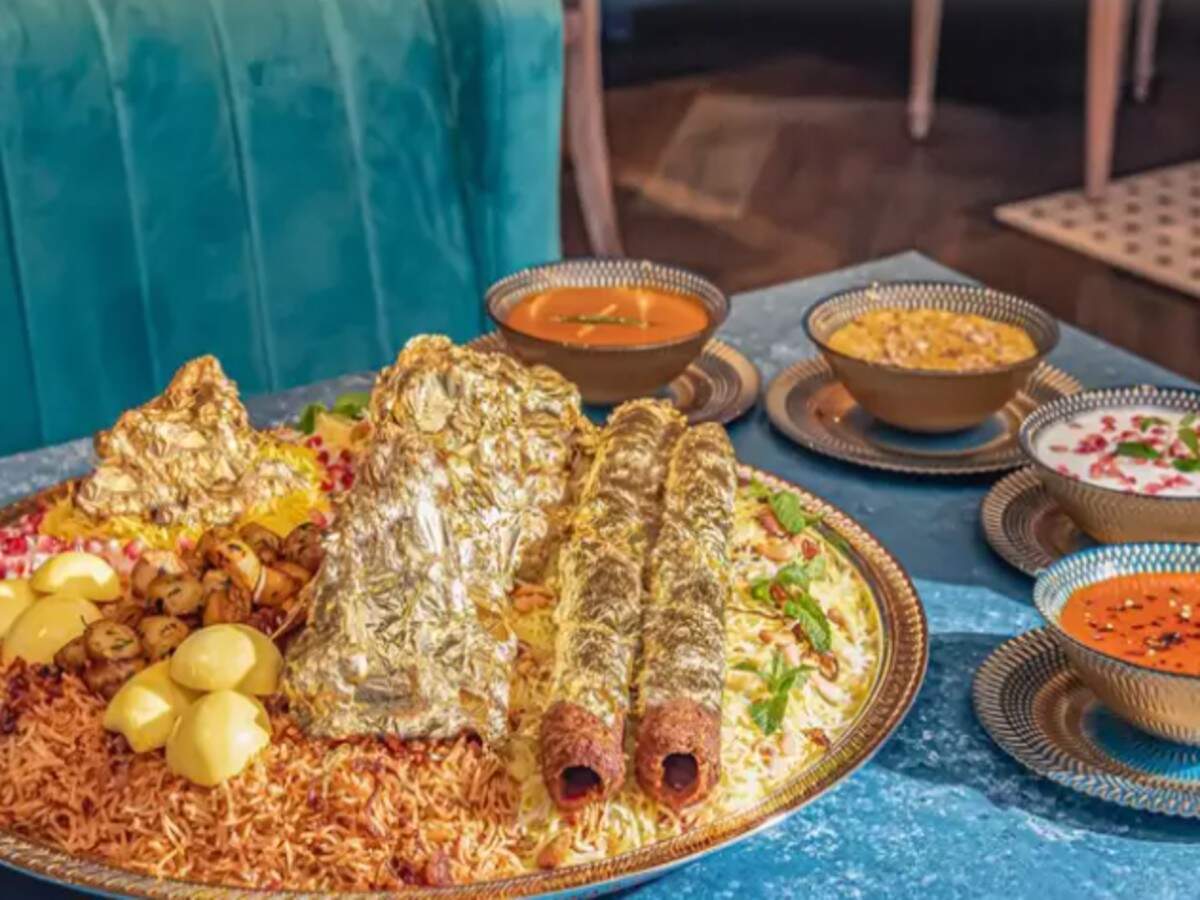 It also comes with a few sides – nihari salan, Jodhpuri salan, badami sauce topped with almonds and pistachios, and pomegranate raita.
I am flying right away to Dubai, to have this lavish dish. What about you?