Unity in diversity is what India is. It is completely different from Kashmir to Kanyakumari. Every other mile holds a different flavor and color. Festival of lights, i.e. Diwali is one of the major festivals of India. No wonder, the diverse cultures of the nation has diverse ways to celebrate this major Hindu festival. Besides, people have mutual respect for eccentricity of other communities. Countrymen flaunt their happiness, love and care for each other and celebrate the celebration. Let's know how India celebrates this one festival with different customs. Have a quick glance!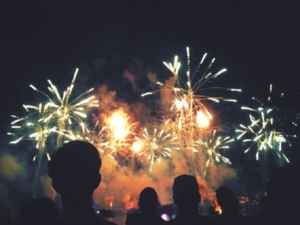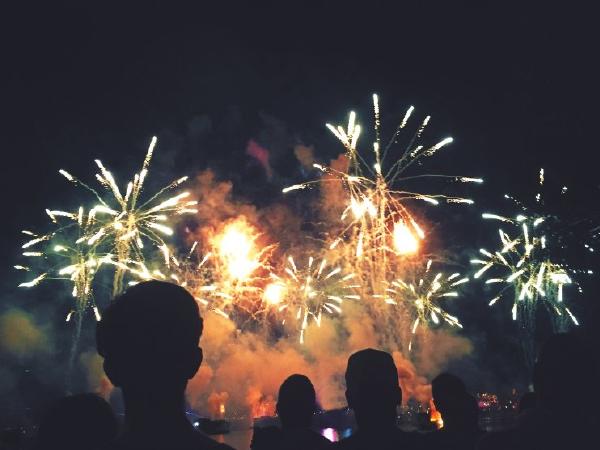 Maharashtra
In Maharashtra, it's a five days long ride on celebration. Diwali starts with Vasubaras, dated ashwin Krishna dwadashi as per Marathi calendar. A pooja is performed in honor of the cow. It is done by a married woman of a cow having a calf. Then comes Dhantyordashi, which is other name of Dhanteras in Maharashtra.  In this day there is a ritual called Yaman-Deep-daan is performed; a lamp made of kneaded flour is offered to lord yama requesting long life of family members. The very next day of Dhantyordashi, people celebrate death of Narakasur by lord Krishna and call the day as Choti Diwali or Narak Chaturdashi. On the morning of this day, people apply scented oils to their bodies and take a special bath which is known as Abhyang Snan.
Now comes the most important day . . . Laxmi Poojan or Diwali. People celebrate the festival with full zeal and enthusiasm by preparing sharing yummy delicacies, lighting lamps, firing crackers etc. The tradition of putting rangoli is forwarded by Maharashtra to the rest of India.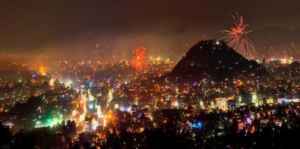 Karnataka
The victory of light over darkness is celebrated all over the region as a festival of wealth and prosperity. The fable behind Diwali in Karnataka is that of an emperor called Bali who had become a danger to the peace of the world by misusing his powers. Then God Vishnu came to earth as a short Brahmin which is known as The Vamana Avatar in Hindi language, and asked Bali for as much land as three of his footsteps would cover. In olden times, any king was unable to say no to a Brahmin's demand for charity. Nonetheless, Bali readily accepted considering it as a small request. As soon as getting agreement of Bali, Lord Vishnu came to his actual appearance and covered the heaven with one foot and the rest of the world with another. He then asked arrogant Bali to where to place his foot for the third step; Understanding his existence, Bali bent before him and presented his own head to place his foot on. This success was happened on the day of the new moon (Amavasya) in month of Ashwin (October-November).
The festivity of Diwali is marked by the lighting of numerous lamps in every home and the bursting of crackers. The dark night loses its darkness as soon as evening of lights reach its heights.
Gujarat
In Gujarat, Diwali is associated with worship of goddess of wealth: Laxmi. Celebration of Diwali starts with Dhanteras when people illuminate 13 lamps. The fourth day is celebrated as Govardhan Pooja, which is also Gujarati New Year. This day natives decorate their houses with flowers, lights etc. Gujaratis begin celebrations on just the night before Diwali by putting "rangoli" in verandah using natural colours to welcome Goddess Laxmi to the house. Also, tiny footprints are drawn with rice flour in stairs heading to home.
On the auspicious day of Diwali, the clothes worn are usually Dhoti-kurta by men, while the women wear saris. Normally, Businesses come to a halt on Dhanteras, two days prior to Diwali, and doesn't continue again until Labh Pancham, the fifth day of the Gujarati New Year. With Diwali, businessmen start new accounts book as a mark of New Year.
Kashmir
Diwali is celebrated in a very special and unique way in Kashmir every year with the very own traditional approach of locals. People start cleaning and decorating their homes in much advance. They shop for new cloths, lot of eatables, decorative items, gifts etc. They also purchase earthen lamps, candles. Kids buy crackers for the D-day and start firing the same 3 days before the same.
Diwali celebration by Kashmiri Pandits is very renowned across the world. It is one of the ages old customs for Kashmiri Pandits. The mention of its celebrations can be found in Nilmata Puran. At that time it was celebrated as Sukhsuptika which means sleep with happiness. The celebration starts from Ekadashi and lasts till Amavasya. On Diwali, elders of family keep fast and worship goddess Laxmi after sunset with complete rituals which normally lasts for two hours. Lamps made from mud are placed in temples, road, banks of rivers, hill houses, cow sheds, at the foot of trees, court yards and at business places. People play folk music on Diwali and enjoy the festivity.
Assam
The crown of the northeast of India is Assam whose capital, Guwahati, is located at the banks of River Brahmaputra. The merriment of Diwali in Assam is celebrated with family performing pooja on the eve of Diwali and firing crackers. Also, people put some electric lights as a substitute to mud lamps and light up the house prior to Diwali. Gorgeous artificial lamps are hung near the door of home that symbolizes the presence of positivity (lights) despite presence of negativity (darkness). Front entrance is decorated with torans and garlands made of mango leaves and vibrant yellow colored marigold flowers. Business entities and families perform chopda pujan (worship of business books). As per locals, commencement of any new venture is lucky during Diwali.