History of the festival of lights:Diwali
Diwali is known as festival of lights. It is assumed that lights scatter positivity on earth. Thus, on a dark night of Amavasya, people light numerous lamps, fire crackers showing their joy and spiritual expression. The meaning is Deep (lamps) + Awali (row of lights). This festival sums up thousands of twinkling lights and glistening diyas. The dazzling array of sparkling colours emitted by the firecrackers arouses the night sky. It normally comes during the months of October or November.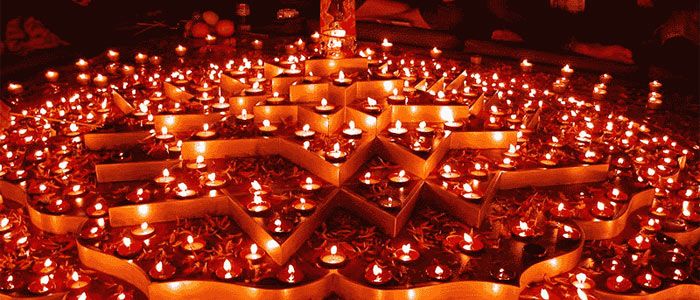 On the other hand, it is the commencement of Gujarati New Year. There are numerous folklores about Diwali. It is said that the day in which Lord Rama along with his companions, wife Sita and brother Lakshman was coming back to his home Ayodhya after fourteen long years of Vanavaas in the forest. He had just defeated King of Lanka Ravana, who had kidnapped Sita. He was helped by Lord Hanuman and his army of monkeys plus an army of bears. The citizens of Ayodhya lit lamps in every home to welcome their King and embrace the victory he had on Ravana. They celebrated by dancing and firing crackers to express their delight over his comeback. As a mark of victory of good over evil, this festival is celebrated till today with great fun and frolic.
Apart from this, according to ancient saga, Goddess of wealth Laxmi travels on earth on Diwali and bless the home which is gleaming with light and which is neat and clean. She is welcomed with colorful rangoli and a row of diyas.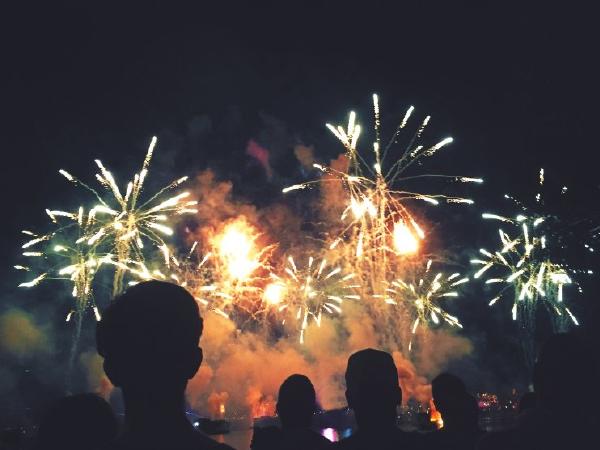 As per one more lesser-known story, Lord Krishna had defeated a demon called Narakasur by killing him and got victory. The people were overjoyed with this as the demon was used to torture them badly. They welcomed Krishna with lamps, lights and crackers. Since Ram and Krishna saved people from evil souls in the Hindu lore, their success is celebrated with full zeal and enthusiasm.
Each day of Diwali has its own legend to be told. The festivity commences with Dhanteras, in which 13 diyas are lit in order. In this day, it is believed that making big purchases brings wealth and prosperity to the family. It is also said that if you'll bring silver or gold on this day, then you'll enjoy your luck throughout the year. After this Narak chaudas is celebrated by litting 13 diyas plus 1. This extra one diya is made of kneaded wheat flour and is placed near drainage to show the bad energy way out. Now comes the real celebration, the Diwali, on the day of Amavasya. It marks the worship of goddess of wealth Laxmi, giving blessings of wealth throughout the year to her devotees.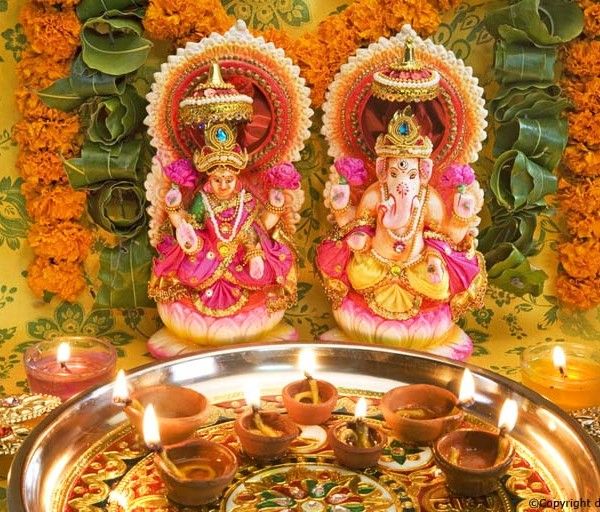 In Diwali there is a tradition of gambling. It is assumed that, on this day, Goddess Parvati played gamble with her husband and she pronounced that whoever will gamble on Diwali night would grow all through the subsequent year. Diwali is linked with wealth and prosperity in many ways.
One more legend of Diwali tells that Lord Vishnu, in his dwarf incarnation, defeated the dictatorship of King Bali, and exiles him to hell. Bali was given permission to come back to earth once every year to light lamps in order to reduce the darkness and spread the warmth of love. The last day is profoundly celebrated as Yama Dvitiya which is also known as Bhai Dooj. In this day, sisters invite their brothers to their homes and perform tike ceremony. They also pray for their prosperous life and presents gifts to them.