If you are planning to be in Rajasthan for at least a week then you should surely experience staying in desert camps. There are many desert camps that are famous for their activities and experiences. It also gives you a chance to spend a night beneath the stars and benign surrounded by sand dunes in the middle of a desert.
Here are some of the desert camps that you must visit when in Rajasthan.
Royal Desert Camp, Jaisalmer
It is one of the top-rated desert camps in Jaisalmer and gives you the opportunity to experience the grandeur of palaces, go for camel rides and enjoy some delicious food.
Sambhar Lake Camp
the largest saltwater lake in India has a splendid view to offer to all the campers and is the perfect place for travelers who would love to gaze at the sparkling night sky. It is also a great desert camping sight for photographers.
Sand Dunes In Jaipur
If you are visiting Jaipur and not planning to cover more parts of Rajasthan then the Sand Dunes can also be a destination where you can enjoy camping.
Bikaner Camps
If you want to see a simpler yet traditional side of Rajasthan then Bikaner should be one of your pit stops. Experience camping in the villages of Bikaner and enjoy the simplicity of the place.
Mount Abu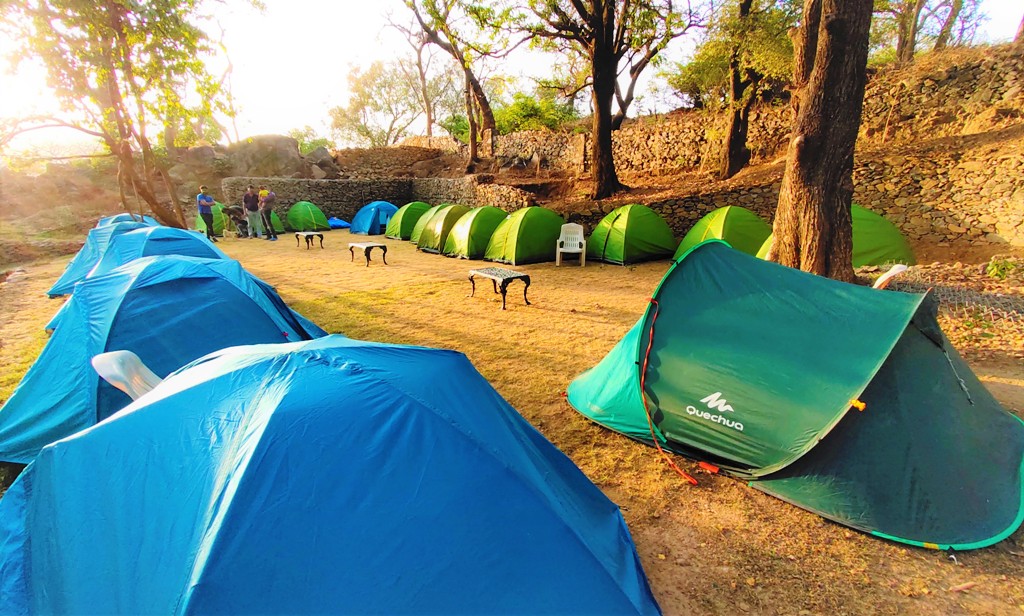 One of the most popular destinations for camping, Mount Abu is a hill station in Rajasthan and is famous for its gorgeous night sky and ambiance.
Ranthambore National Park Camps
This is the perfect camping site for animal lovers who would love to see the wildlife while camping out in the open. The camps also overlook the foothills of Aravali which offer an amazing view.
Have you ever been to a desert camp?