The yummiest Gujia places in town: 
One of the reasons why we Indians are fond of festivals is because of the sweets we get to enjoy. With every Indian festival come special sweets dedicated to it! Holi is almost here and we cannot wait to stuff ourselves with Gujia, the traditional Holi Indian sweet. These little bundles of joy are delicious and stuffed with lots of dry fruits dipped in sugary syrup. The season's first ghujia truly makes you feel that Holi is right here. So we scoured the best shops in Delhi for you to buy and have these yummy desi desserts: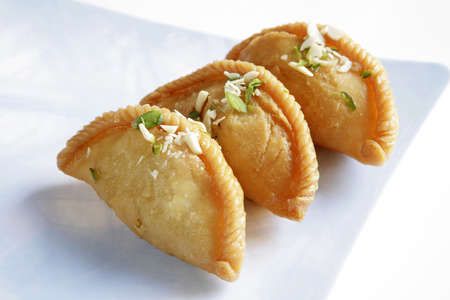 • Ghantewala Halwai
The Ghantewala Halwa is possibly the oldest sweet shop in India, established in 1790. The shop is known for its various sweets like Karachi halwa, Gujia and many traditional sweetmeats. The pure desi ghee gujias are a must have. It is a paradise for a sweets lover.
Address: Opposite Halidram's, Chandni Chowk, Delhi.
• Nathu Sweets
This sweet shop has many outlets all over Delhi and is famous for Indian sweets. They also serve vegetarian food items at reasonable prices. In this shop you can get different varieties of Gujia, just make sure you reach here early to get gujia, because they run out of them, very soon!
Address: Laxmi Nagar, Bengali market, and new friends Colony etc.
• Gulab
No matter what the festival is sweets Gulab has the most evergreen sweets. They are totally delicious and mouth-watering. You must try their Mawa Gujia, it is the best mawa variety in town.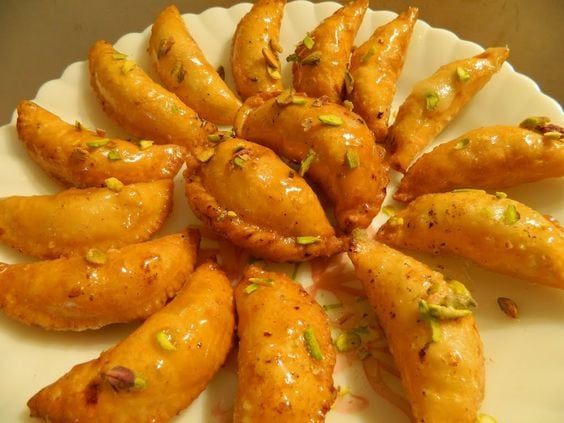 • Tewari Sweets
This famous South Delhi shop makes amazing Motichoor Ke laddo and in Holi they make delicious Gujiyas as well. Around Holi the shop gets really crowded, we suggest you to buy sweets a little early.
Address: O-3/20, Lajpat Nagar 2, New Delhi.
• Kanwarji's
It is located at the entrance of Paranthe wali gali and its deep-fried gujiya stuffed with dry fruit are love. Around Holi time, there is a queue and sometimes it takes you an hour to get a box of gujia.
• Chaina Ram Sindhi Confectioners
They are in the city from 1901 and no one makes Indian traditional sweets like they do. Go to this popular sweet shop to get a box of lip-smacking gujia around Holi time. This shop is famous for its taste and quality.
Address: 6499, Fathepuri Chowk, Chandni Chowk, New Delhi
Do you like Gujia? Tell us which sweet shop do you like to buy it from.