Uttar Pradesh's Bareilly finally gets its lost Jhumka after years:
Remember the famous Bollywood song, "Jhumka gira re, Bareilly ke bazaar mein."? Well, it seems like the city has finally got its jhumka after 45 years. But the fun fact is that there is no connection between jhumka and the city, but it is still an icon for the city. The city got its jhumka when Union Minister and local MP Santosh Gangwar unveiled a 14-feet high structure at the zero points on national highway 24.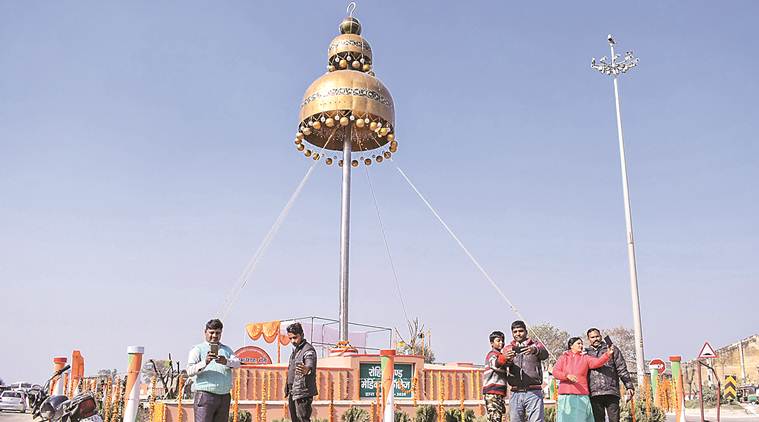 The jhumaka weighs over 200 kg, and was installed in the city recently. The massive piece of jewelry is also embedded with myriad colorful stones and the city's name is also embroidered on it with Bareilly's famous zari.
The jhumka connection not only made Bareilly popular but even today tourists come here look for the jhumka. At several tourists visit the city and ask for the famous jhumka. A local jeweler said, "We have people coming and asking for jhumkas and we do not have the heart to tell them there jhumkas in Bareilly are no different from those sold elsewhere. We always keep jhumkas in different designs because we do not want to disappoint our customers."
Inaugurating the jhumka, Union Minister Santosh Gangwar stated "The collaborative effort made by the authority, various organizations and residents in setting up the ambitious jhumka in Bareilly is commendable. It looks beautiful and unique. Visitors will finally be able to associate the landmark jhumka in Bareilly with the evergreen song."
The project has cost the BDA around INR 18 lakh: INR 8 lakh for the jhumka and INR 10 lakh for the beautification of the landscape surrounding the main structure.