Holi is a very popular religious festival celebrated throughout India. It is a festival of colors and is celebrated on Phalgun Purnima which starts around March. There are numerous mythological stories behind the origin of this festival and the festival also holds importance with respect to an end of winter season and welcome the summer season. Here are the 7 best places in India to watch or play the famous Holi festival.
Mathura and Vrindavan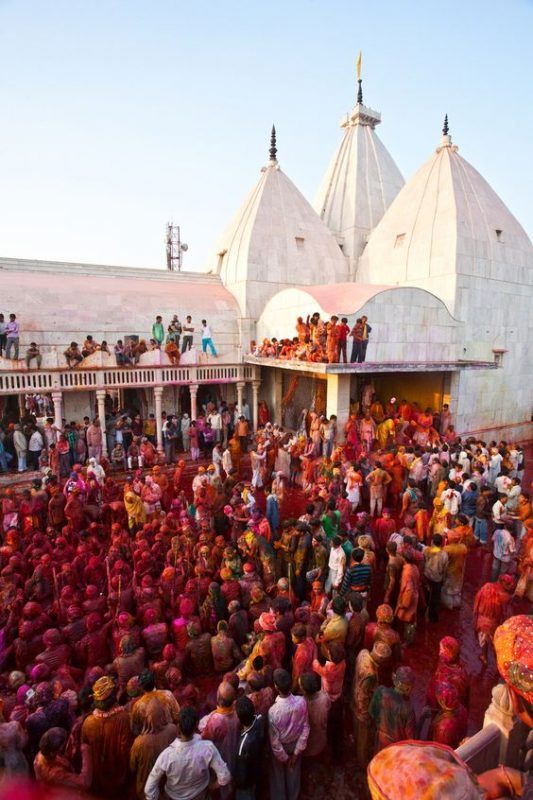 Mathura is the birth-place of Lord Krishna and Vrindavan is the place where he spent his childhood. The Holi of Mathura and Vrindavan is very famous throughout the country. Mathura holds a popular show which takes place a week before Holi. The whole place looks so colorful, the best place to play Holi with colors in Mathura is Dwarkadheesh Temple. The Banke-Bihari Temple in Vrindavan is also very famous for Holi celebrations. The doors of all the temples are open for visitors to enjoy the beautiful Holi celebrations.
Barsana
Barsana in Uttar Pradesh is famous for Lath-mar Holi. It is the place where Lord Krishna used to go and tease Radha. It is a two-day celebration, which mainly takes place at the Ladliji temple, on the first day men from Krishna's village, Nandgaon travel to Barsana to tease the women there. The women run after men and hit them with sticks, on the second-day women from Barsana go to Nandgaon to play Holi with men of Nandgaon.
Shantiniketan: West Bengal
This celebration was started as a Spring festival by famous Bengali poet Rabindranath Tagore at Vishva Bharati University, Shantiniketan. The Students of Vishva Bharati celebrate this festival by wearing yellow color on this day and by performing some wonderful folk dances and cultural programs followed by the throwing of colors. Many tourists arrive every year at Shantiniketan to take this unique experience and participate in these celebrations.
Udaipur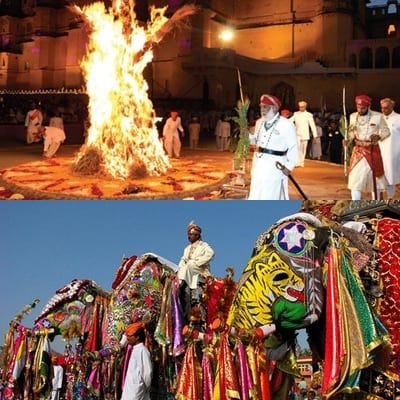 For an amazing holi experience, you must join the celebration of Udaipur's Mewar royal family. Holi is one of the major festivals celebrated in Rajasthan. The celebrations take place for two days and the night before Holi people celebrate the ritual of Holika Dehan by lighting bonfires. There is a wonderful palace parade from the royal residence to Manek Chowk at the City Palace, including bedecked horses and royal band.
Jaipur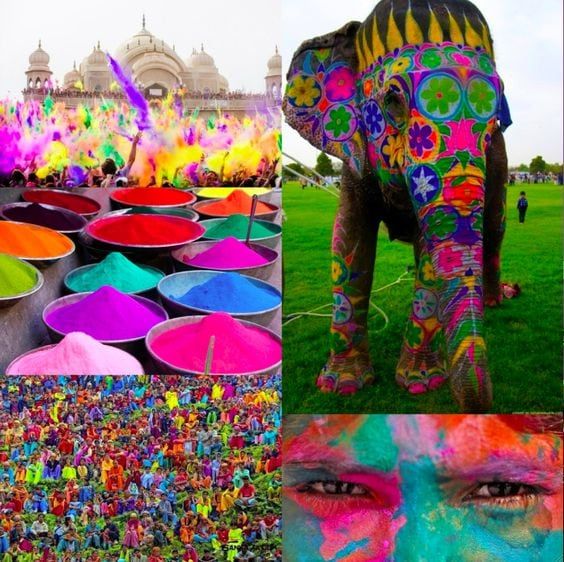 Jaipur is famous for an elephant festival which takes place every year during Holi. The festival begins with a huge parade of decorated elephants, camels, horses, and folk dancing through the streets. The owners of these animals take pride in how they dress up the elephants or camels, and it is often a friendly competition amongst neighbors to see who can create the most lavishly decorated animal. The festival also has activities like elephant polo, elephant races and a tug-of-war between elephants.
Anandpur Sahib, Punjab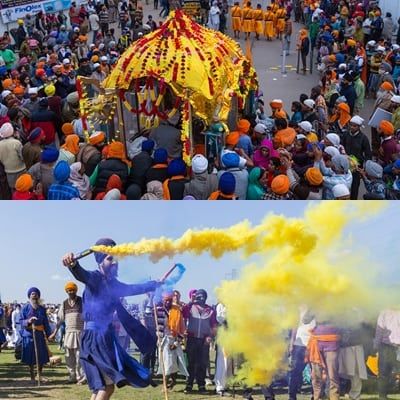 Although Holi is a festival of colors and generally everyone celebrates it with colors but, at Anandpur, Sahib Sikhs celebrate Holi in their own style. It is an annual fair known as Hola Mohalla, celebrated a day after the Hindu festival of Holi. It is a three-day grand festival where mock battles, exhibitions, display of weapons, etc., are held followed by kirtan, music and poetry competitions. Daring activities, such as Gatka, tent pegging, bareback horse-riding, standing erect on two speeding horses are performed by the participants.
Mumbai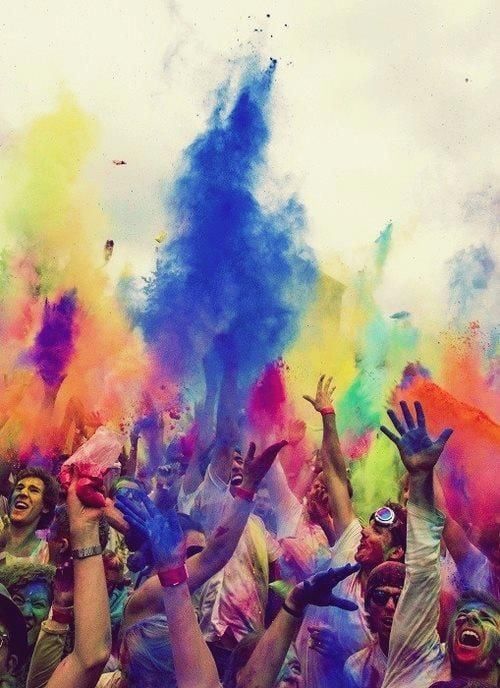 Holi is one of the major festivals in Mumbai and is celebrated with great enthusiasm. There are a lot of Holi parties arranged in the city. Mumbai has a unique festival on holi, by hanging a pot full of buttermilk and men climb on top of one another to reach the pot. The person who breaks the pot win and is named Holi King of that year. Even Bollywood celebrities play with color during this festival. On this occasion people in Mumbai send sweets and gifts to each other