Waiting at the airport is often boring, but when it comes to Singapore airport, it isn't boring at all. Changi airport is one of the largest and best airports in the world. Free cinema, massage chairs, waterfall and in house park can any airport get more amazing than this? There are 3 terminals in the top-class airport and there are trams that take you across. The trams arrive frequently, 1-3min/tram so you can explore all the terminals. we know it is large and beautiful, but it offers some exceptional things as well.
In Door waterfall and butterfly park:
Singapore's Changi Airport has got an indoor waterfall, it is 131 ft tall making it world's tallest waterfall. Situated inside a dome-shaped vortex, the waterfall is surrounded by a beautiful lush garden. The butterfly garden, you can see caterpillars, cocoons and many species of butterflies flying around with waterfall as well.
The waterfall pours down seven storeys from an opening in the glass-domed roof of the Safdie Architects-designed building at the airport. This stream of water naturally cools the air under the dome, while the captured water will be re-used in the building.
Not only this but, 200 species of plant surround the waterfall in an area called the Forest Canopy, with trails for visitors to walk along.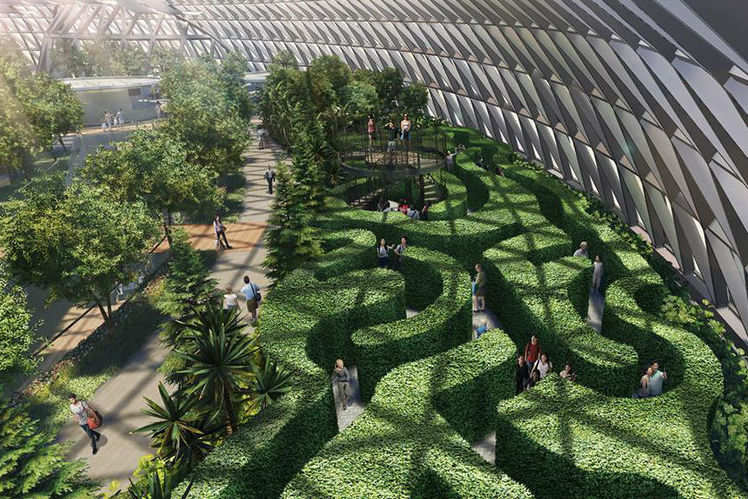 At night you can also experience a 360-degree light and sound show projected onto rain vortex. The new building is connected to Singapore's public transport system and links to terminals one, two and three via pedestrian bridges.
Imagine an area with a gushing waterfall, gorgeous butterflies flying around and colorful flowers. isn't it just perfect?