Why Nepal must be on your vacation list

Posted by: Team TP,

Posted on: 1 month ago

Located between India and China, Nepal is a small beautiful country. A visit to Nepal should surely be on your travel list as this country offers adventure, amazing nature and is budget friendly. It has a stunning variety of cultural and has its own different traditions and rich culture. Set as many expectations as you can and Nepal will surely fulfill all of them with its warm hospitality and wonderful nature experiences. There are mountains, hills, plains, gushing rivers and great world heritage sites that tell us about its glorious history. As we told earlier there are many reasons to visit Nepal. Let's discuss some of them below: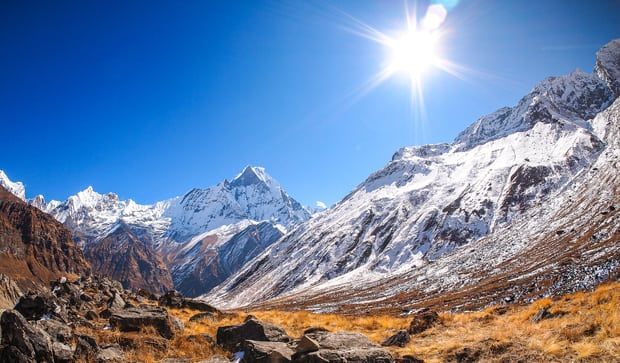 In this city of Kathmandu, the Kathmandu valley has seven sites which are listed as a Heritage site by UNESCO. The Newari temples of Nepal have a very elaborate woodwork and are must visit. The different places, monasteries, temples and traditional houses in Nepal have interesting designs and artistic feel.
Across the country, one will find numerous adventure activities like Bungee jumping, mountain biking, paragliding, rafting, and skydiving. If you are an adrenaline junkie, Nepal is a must as it has the World's highest mountain Mount Everest and you can take a trek to it.
Rich culture and tradition
With the striking sceneries and landscapes, Nepal also offers many cultural highlights. The country has different tribes which have distinct customs and traditions. According to UNESCO's list, Nepal has total 71 different languages so you can witness the religions, living style, music and traditions of these tribes.
Other than the large mountains, Nepal is home to attractive lakes, rivers, glaciers and wildlife jungles.  You can also go on small hikes and jungle treks as well. Nepal's pristine lakes are very beautiful, especially Pkewa Lake and Rara Lake.
There are a lot of casinos in Kathmandu so you can even try making some money in them. In terms of shopping, you can find brands to flea markets. You can pick some gems, clothes, jewelry, artwork, souvenirs from Kathmandu.
Food in Nepal is generally quite healthy and there are lots of vegetarian options too everywhere.
Nepal is a very inexpensive country to travel to. You can easily enjoy a trip to Nepal without burning a hole in your pocket.
Comments
comments