It's the eight day of navratri celebrations that means Durga Ashtmi. Ashtmi poojan is considered as Maha puja during navratri. It is one of the important days of Durga Pooja and on this day Devi Mahagauri is worshipped.
She is one of the most graceful form of Goddess Durga. In India temple dedicated to Devi Mahagauri is Shri Sidh Shaktipeedh Mahagauri Mata Mandir in Ludhiana. Check out the details about the temple and 8th aspect of Maa Durga below:
Location:
It is located at Shimlapuri Rd, Chimney Rd, Shimla Puri, Ludhiana, and Punjab. Goddess Mahagauri Devi Temple is situated in Varanasi also.
About the eight form of Maa Durga: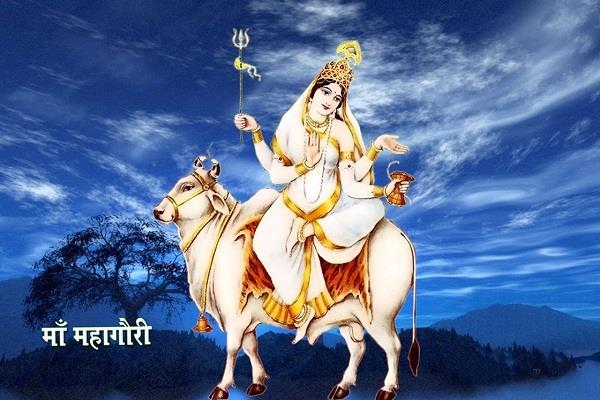 It is believed that this manifestation is of Parvati when she did hard penance to obtain Shiva due to which her body color turned dark. When Lord Shiva accepted her she washed her body with pure Ganga water that made her body purely white. And this way she became "Mahagauri".
About the temple:
In Shri Sidh Shaktipeedh Mahagauri Mata Mandir you will get to worship Goddess Mahagauri in "Pindi roop". It is one of the 52 shakti peeth temple in India. Here the main idol Durga Devi is worshipped as MahaGauri. Her name is Mahagauri, as she was white in colour and very beautiful. Mahagauri has the power to fulfill every desires of her devotees.
About the idol:
Mahagauri is represented with four arms, the hands holding a trident lotus and drum and the fourth hand is in a blessing gesture. The lotus flower is sometimes replaced with rosary. She rides a white bull and is usually shown wearing pure white clothes. Her beauty glows like a white pearl.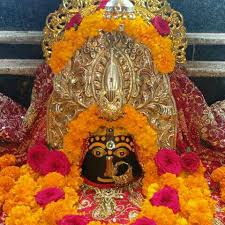 Significance of worshipping Goddess Mahagauri
Goddess Mahagauri signifies peace and endurance, she has the power to fulfill all the wishes. Observing fast on eight day and worshipping this goddess is very beneficial for everyone especially women. Unmarried girls get desired husband and married women enjoy peaceful and long married life.
All the gods and people woship this form by chanting: Sarva Mmangala Mangalye Shive Sarvaartha Saadhike; Sharanye Tryambake Gauri Naaraayani Namostute.